Und noch ein schönes Interview aus Frankreich, bei dem Alex aus dem Nähkästchen plaudert!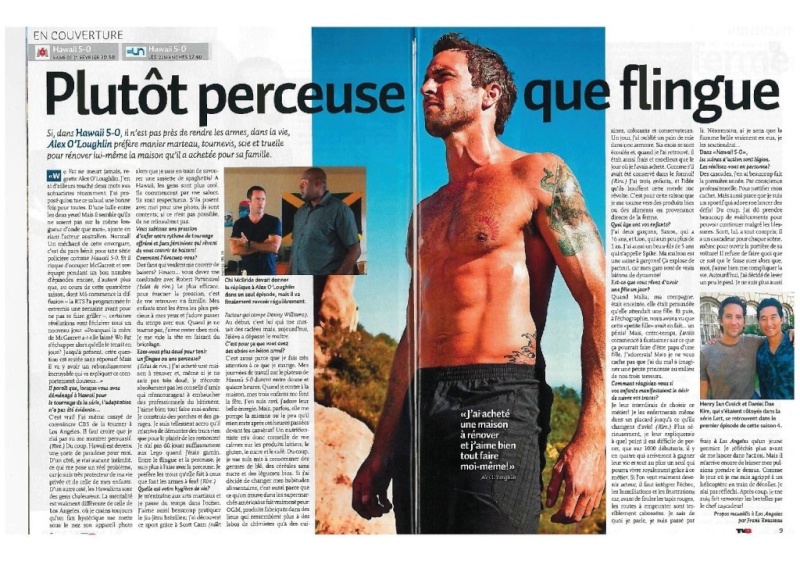 COVER: Contract killer and handyman
When stops being McGarrett and drop his weapons after the shooting of the show, Alex O'loughlin pulls his drill out to restore his house.
Article:
More drill than guns
Even if in Hawaii 5-0, he is not ready to drop the guns, in real life, Alex O'loughlin likes more to play with hammer, screwdriver, saw and trowel to restore himself the house he bought for his family.
"Wo Fat never dies" regrets Alex O'loughlin . "I actually said it to the writers lately. I said them to kill this bastard once for good. A bullet in the middle of the eyes! But it seems that we aren't in the same wavelength." adds the Australian actor, laughing. That's obvious ! A bad guy like this it's heaven for a procedural show like Hawaii 5-0. And he is most likely to keep busy McGarrett and his team for a great number of episode, all the more since, during the 4th season [Starting Feb 1st on M6, RTSun had programmed it one week before], some secrets will brought him to light "Why did McGarrett's mother let Wo Fat while he was in front of her?" Until now, we haven't had any answer to this question. But we will have an unbelievable revelation that will explain this doubtful behavior…
It seems that, when you moved to Hawaii because of the show, the adjustment wasn't easy …
It's true ! I even tried to convince CBS to film in LA. I wasn't convincing enough (laugh). So Hawaii became like a paradox for me. In one hand, I don't have any privacy, which is a real problem for me, because I'm really protective of my private life and my kids' one. In the other hand, Hawaiian people are warm. The mentality is totally different from LA, where I'm always afraid than an hysteric fan would take a picture of me while I'm having a plate of spaghetti. In Hawaii, people are cooler. They start saying hi, they're respectful. If I can take a picture with them they're happy, if not, they don't start insulting me.
You're under a lot of pressure with the crazy shooting schedule and the fan girls who dream to cover you with kisses… How do you deal with all this ?
Fan girls who want to kiss me ? Mmmh you might be confusing me with Robert Pattinson (laughs). The most efficient to evacuate the pressure is to be with my family. My kids are the most important to me and I love spending time with them. When I'm not working, I like to stay home, to think about something else while DYI.
Are you better at holding a gun or a drill ?
(laughs) I bought a house that I have to renovate and even if I'm not excellent at this, I absolutely don't listen to my friends that keep telling me to hire professionals. I like to do everything myself. I love it so much that it happens that I take off some stuffs just for the pleasure to rebuilt it again. I didn't play enough Lego when I was young.
Between a gun and a drill, I'm more at ease with a drill, I like more the holes a drill does than the ones guns do (laugh)
What is your life style ?
I practice martial arts and I spend a lot of time in the ocean. I like to do Brazilian Jujitsu, Idiscovered this sport thanks to Scott Caan (who plays Danny Williams). At first, he was so good, now, I'm better than him.
That's why you have those great abs ?
It's because I'm very careful with what I eat. My days are work shooting Hawaii 5-0 last betwee, 12 and 15 hours. When I go home, my kids celebrate it, and I'm really happy, I love their energy. But sometimes, they use mine, the little I have left after spending hours in front of the camera ! A nutritionist recommended me to be careful with milk products, gluten, sugar and coffee. So I started to eat some wheat, cereals without sugar and organic vegetables. If I changed the way I eat, it's because what you can find in the American supermarkets is scary : GMO, products that are "made" in a place that looks like a lab more than a fabric, food preservatives ..; One day, I forget some bread in a cupboard. I found it six months later and it was as fresh as the day I had bought it ! I have 3 kids and the idea that they eat that shit is revolting. That's why I only buy organic food or products coming straight from the farm.
How old are you're kids ?
I have 2 boys, Saxon who's 16, and Lion who's a little more than 1. I also have a stepson, Spike who's 5. My house is a boy's fabric, It's very explosive at home, because my guys are real sticks of dynamite !
Would you like to have a girl ?
When Malia, my partner, was pregnant, she thought it was a girl. But when she did the ultrasound scan, we saw that the little girl … had a penis ! But during the whole time I had started to imagine how it would be to be the dad of a little girl. I would have loved it! But honestly, I can't imagine a little princess in the middle of our 3 monsters.
How would you react if your kids want to follow your path ?
I would forbid them to do this job. I would lock then even in a cupboard until they change their mind ! (laughs) No seriously, I would explain them how hard it is to do his job, than among 1000 beginners, only 4 finally do it for a living and that only 1 can live superbly doing this job. If you really want to become an actor, you need to accept the failure, humiliations, and frustrations, because, before walking on the red carpet, the progress is long and hard , and I know what I'm talking about, I went through this too. However, If I see that deep down, they want to do this job, I will support them.
On Hawaii 5-0, they are plenty of action scenes. Do you do them yourself ?
Stunts, I did a lot of them during the first year. By dedication to my job. Also because I'm a a very sporty person who loves challenges. Then I had to took a lot of medicine to be able to work despite the pain and injuries. Scott understood everything. He has a stuntman for everything, even just to open the door of the car. He won't do anything that could make him sweat, unlike me who loves to complicate everything. Today I decided to slow down, I'm not as young as I was in LA. I think twice before doing a stunt. But sometimes, I let urges win. Like the day I was clinging on an helicopter taking off. I didn't think twice. Then, the stunt boss came and told me off.
Quelle: AOLww